Future focused. Innovation driven.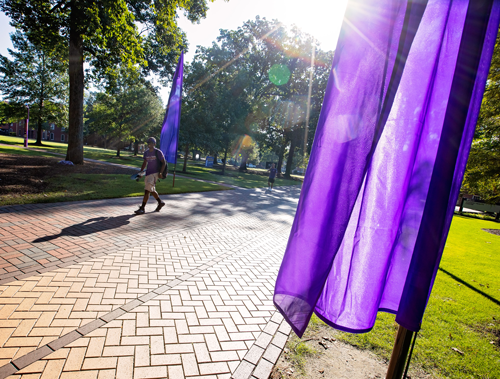 East Carolina University® remains steadfast in our commitment to be a national model for student success, public service and regional transformation. Through education, research, health care, community engagement, cultural enrichment and more, ECU enhances the quality of life for our students, our state and our world.
Future focused. Innovation driven. is ECU's strategic plan for 2023–2028. A refresh of the university's 2017–2022 strategic plan, it highlights the intersection of ECU's mission, vision and values as we set priorities for advancing the university during the next five years.
The Strategic Planning Committee and the Strategic Advisory Committee have offered leadership, expertise and a collaborative approach to the strategic planning process. Stakeholder input — shared through public forums, online surveys and Chancellor Philip Rogers' Pirate™ Perspectives listening sessions — has been crucial as well.
The refreshed plan sustains a focus on areas vitally important to the core of ECU's mission while sharing insight into what we aspire to be.
---
Mission Priorities
Mission Priority 1: Student Success
We offer transformative experiences for all students during their time at ECU and beyond.
Objective M1.1: Strengthen graduation and retention strategies while closing equity gaps to advance opportunity for all.
Objective M1.2: Expand access to and participation in transformative experiences and experiential learning.
Objective M1.3: Align university programs to meet the demands of a dynamic, innovative economy and an evolving workforce.
Mission Priority 2: Public Service
We focus our efforts with the community in mind and to achieve goals that enable us to be more engaged citizens.
Objective M2.1: Increase public engagement with and access to educational and cultural offerings.
Objective M2.2: Grow external sponsorship to support community engagement activities
Mission Priority 3: Regional Transformation
We evaluate our success by the development of our region, informed by local and global perspectives.
Objective M3.1: Strengthen the regional workforce.
Objective M3.2: Expand and enrich external partnerships.
Objective M3.3: Advance regional economic prosperity and sustainability.
---
Vision Priorities
Vision Priority 1: Social and Economic Mobility
We will be an engine of access and advancement for all learners through innovative teaching, research and creative activities.
Objective V1.1: Increase enrollment and completion rates of underserved populations through a lens of affordability and accessibility.
Objective V1.2: Bolster online course and program offerings.
Objective V1.3: Expand curricular and noncurricular workforce development programs aimed at workforce upskilling and reskilling.
Vision Priority 2: Workforce Success
We cultivate a culture of care, belonging and opportunity for our faculty, staff and learners and all stakeholders.
Objective V2.1: Increase support and utilization of faculty and staff well-being resources.
Objective V2.2: Commit to sustaining an inclusive environment that welcomes a broad representation of persons and perspectives.
Objective V2.3: Prepare university employees with the knowledge and competencies required for successful career journeys.
Vision Priority 3: Rural Health and Well-Being
We will improve health access, sustainability and outcomes for rural communities.
Objective V3.1: Strengthen educational opportunities and academic programs to meet the needs of a rural population.
Objective V3.2: Expand access to health care and wellness options.
Objective V3.3: Collaborate with community and university partners to foster comprehensive well-being.